Main Features of Default Investment Strategy
The Mandatory Provident Fund Schemes (Amendment) Ordinance 2016 ("Amendment Ordinance") mandates each Mandatory Provident Fund ("MPF") scheme to provide Default Investment Strategy ("DIS"), with effect from 1 April 2017.
What is the DIS?
DIS is a ready-made MPF investment strategy with fee caps.
For scheme members who do not make any investment choice, their future contributions will be invested according to the DIS.
It is also available for scheme members who find that the strategy suits their own personal circumstances.
What are the main features of DIS?
Feature 1: DIS consists of two constituent funds
The DIS consists of Core Accumulation Fund ("CAF") and the Age 65 Plus Fund ("A65F") under each scheme.
The CAF invests 60% of its net asset value in higher risk assets and 40% in lower risk assets, while the A65F invests 20% of its net asset value in higher risk assets and 80% in lower risk assets.
Adopt a globally diversified investment approach with an investment performance standard benchmark for reference.
Feature 2: Age-based de-risking mechanism
In order to balance long-term risks and returns, investments will be invested through the predetermined allocation percentages between the two constituent funds in accordance with the member's age.
Scheme members who invest through the DIS will have all of their contributions invested in the CAF until they reach the age of 50, from which point their investments will be gradually moved to A65F. By the time the members reach age 64, all of their MPF assets will be invested in A65F. Refer to the illustration table as below.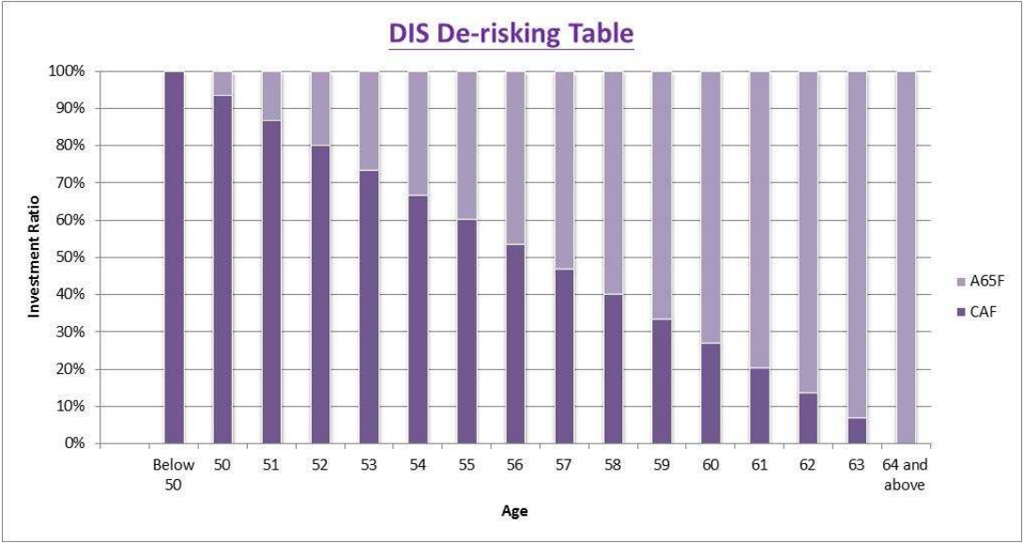 Feature 3: Fee controls
The management fees chargeable to the DIS funds, CAF and A65F, are capped at a maximum of 0.75% of the net asset value of the funds on a yearly basis, while fees for recurrent operational expenses are capped at 0.2% on the same basis.
The management fees covered within the fee cap include all fees for services provided by trustees, administrators, investment managers, custodians, sponsors and promoters, as well as similar fees chargeable to the underlying investment funds.
You should consider your own risk tolerance level and financial circumstances before making any investment choices. In your selection of funds, if you are in doubt as to whether a constituent fund is suitable for you (including whether it is consistent with your investment objectives), you should seek financial and/or professional advice and choose the fund(s) most suitable for you taking into account your circumstances.